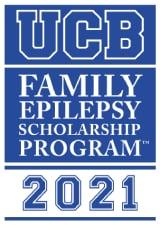 In light of the challenges and disruptions caused by the current pandemic, the 2021 UCB Family Epilepsy Scholarship Program™ application deadline has been extended to Monday, February, 15, 2021. In 2021, UCB will award 30 scholarships of up to $5,000 and 3 scholarships of up to $10,000 to people living with epilepsy, their family members, and caregivers pursuing higher education.
The recipients of the Epilepsy Leader Scholarships and the Joe D'Souza Memorial Scholarship will demonstrate academic and personal achievement and will also exemplify some of the qualities that Drs. Helmers and Pellock were best known for including a desire to advocate for and serve others, an interest in positively contributing to the epilepsy community and a persevering spirit.
The 2021 UCB Family Epilepsy Scholarship deadline has passed. Application materials received on or before March 26, 2021 will be accepted. Thank you.